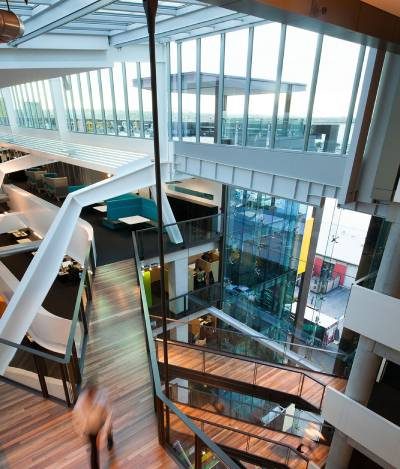 Need Commercial Painters In Auckland? Speak To Us
Our commercial painters specialise in all aspects of work, from Decorative and Architectural Painting to Intumesent Coatings and Wallcoverings.
With over 35 years in the painting industry we proudly put our name to an extensive list of commercial painting projects in Auckland and the surrounding areas. We pride ourselves on delivering exceptional paint solutions and have many repeat clients and customers. We work with Main Contractors and clients to ensure projects are delivered on time and to the highest standard.
Why Should Contract Coatings Be Your Painter?
Whether the project is big or small, we have the resources, systems and structure to get your project completed on time and to the highest standard. Quality is central to all of our working practices and has been crucial to the success of our business and our long-term sustainability. We don't cut corners at any step.
The Contract Coating's management team is committed to showing leadership and is responsible for creating, implementing and maintaining robust Health and Safety Systems and Quality Assurance Planning. With effective leadership and support, every employee understands the importance of their role and responsibility within the company.
More Info
A lot of our commercial painters and foremen have been with us for decades.
More Info
We strive to protect the environment and prevent pollution and waste where possible. As certified Resene Eco Decorators, we are committed to protecting the environment along with the health, safety and wellbeing of our employees. Our water based liquid is recycled in house using the Resene Wash Wise System and plastic buckets recycled.
Our employees, along with suppliers and sub-contractors, continually strive to improve environmental performance.
More Info
100% of our business is owned, operated and run right here in NZ.
More Info
We maintain safe working environments and comply with all statutory and client requirements.
We are certified IMPAC pre qual contractors.
Specialist Painting Services
More Info
Working in conjunction with New Zealand's leading paint manufacturers and as members of the Master Painters of New Zealand we will ensure correct specification for your project eliminating any unwanted surprises.  We offer the following specialist services;
Spray Finishing
Intumescent Coatings
Industrial Coatings
We are equipped to work in all types of situations and handle challenges effectively. If this sounds like the commercial painter you need for your upcoming project or if you are looking to set up a long term partnership then get in touch