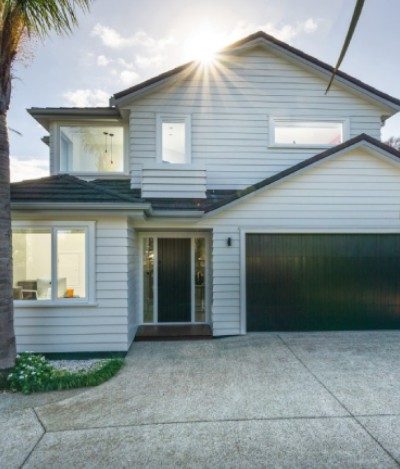 Is Your Home In Need Of A New Paint Job?
Our residential painters are ready to help. With over 35 years experience in the Auckland residential painting market and many satisfied customers, you can trust us to do a great job, in a timely manner and for a competitive price.
Our aim is to take you comfortably through all stages of your painting project. From your initial phone call to arrange a free quote, right through to the time you say goodbye. At Contract Coatings, we do everything in our power to ensure your job is completed on time and to the highest standard.
We believe it is this quality of service that has led to the success of our company. A large number of our residential work comes through word of mouth and on more than one occasion we have been called back to paint the same house again. We use only the highest quality paints and preparation materials. Your house is very likely your largest investment and we respect that. We guarantee our work.
Why Should Contract Coatings Be Your Residential Painters?
Contract Coating's management team boast more than 250 years collective experience in the painting and decorating industry. Our reputation and client referrals are a reflection of our high standards.
Our organisation is a registered member of both Master Painters New Zealand and Site Safe New Zealand. Our painters are extensively trained tradesmen and brush-hands.
We have been through the process of painting a home hundreds of times and always deliver a top quality finish.
More Info
Our painters and foremen have decades of experience in Auckland.
More Info
We are certified Resene Eco Decorators and are committed to protecting the environment along with the health, safety and wellbeing of our employees.
We ensure we meet current legislation and industry Codes of Practice and actively support Environmental Agencies in implementing any improvements. We address the concerns of all interested parties by assessing, monitoring and where possible, reducing to a minimum the impact of our activities on the local and general environment.
All team members, along with suppliers and sub-contractors, continually strive to improve our environmental performance.
All of our water based liquid waste is recycled in house using the Resene Wash Wise System reducing our impact of liquid waste on the environment. All our solvent based waste is disposed of responsibly using Hi Tech Disposals Ltd.
More Info
100% of our business is owned, operated and run right here in NZ.
More Info
Our residential painting work is undertaken in such a way that will meet the manufacturers warranties. No worries there.
More Info
We provide all clients accurate timeframes around start dates and length of projects. No pie in the sky promises here.